The Pelichy family were originally merchants from Savoy, settled in Flanders in the 16th and 17th centuries. They split up into various branches, including Haringhe-Rousbrugghe, Bergues-Saint-Winoc, Dixmude, Nieuport and Hulst, who had surnames and first names such as Pilisy, Pillecyn, and Fey.
Jean Pelichy set up in business as a merchant in Amsterdam, from where he founded a mercantile establishment in Seville, where he died in 1698. He stood at the beginning of the lineage of Barons de Pelichy, which died out in 1994.
Thirteen generations of Pélichy have done a great deal of travelling over 300 years: returning to Flanders, to Bruges, then to Ghent, in the 18th century, they included officers in the service of Spain and the Holy Empire, a mayor of the free regions of Bruges, an advisor of Flanders in Ghent, a talented artist, lords of Turksweert in Gueldre, officers in the service of Austria in the wars against Napoleon, a minister for Catholic Affairs in the Netherlands under King William I, while his brother, future mayor of Bruges,
was a member of the National Congress in charge of drafting the constitution for the new Kingdom of Belgium, three mayors of Seeverghem, a priest and founder of schools in Iseghem, an officer and a territorial administrator in Congo, etc.
An Austrian branch of the family covered themselves with glory for a whole century including imperial and royal chamberlains, a general, a canoness, two Knights of the Teutonic Order, and a Dame of the Starry Cross, before dying out in 1918.
The Gillès de Pélichy family are all descended from the daughter of Baron Jean de Pelichy (1774 – †1859), a member of the National Congress, Senator and Mayor of Bruges, whose name they have perpetuated since 1872.
Coat of arms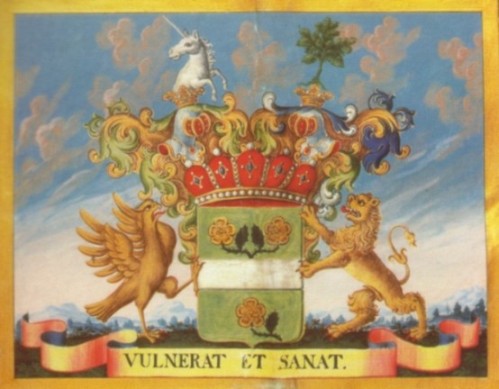 2nd and 3rd vert, a fess argent, with three roses Or, slipped and leaved with sable, 2 in chief chef and 1 perching.