The Gillès family has its roots in Belgium, and more specifically the Tournai region.
According to the archives all these family members can be traced back to Josse Gillès, who was born before 1470, the husband of Catherine Houart. Earlier declarations of lineage, but not yet attributed, date back to the late 13th century.
Brice Gillès (from whom all the Gillès in Belgium and the Gillès in France are descended), Lord of Menquedorne, born in Tournai in 1543, was mixed up in the political and religious unrest that broke out in the city in 1566. He was accordingly banished and had to seek refuge. First of all in Douai (France), then in London, where he married Jehenne de Monchaux, also called Adin, in 1570. He then headed for Holland, settling permanently in Amsterdam, towards 1590. Called Saint-Gilles for a whole generation, the Gillès family remained in Holland for several centuries. Some of the family members held high political and legal posts there. Examples are Jacques, Paul-Abraham, Philippe-Jean, Jacques-Louis and Samuël Gillès.
Settling in France, the Knight Jacques-Louis Gillès (1728-1780) started the French branch of the Gillès family. His descendants always bore the name Gillès and lived in northern France.
Born in Amsterdam in 1757, Louis-Michel Gillès married Jeanne-Petronille de Pret in 1780, then settled in Antwerp. His descendents subsequently remained in Belgium.
Various branches of the family are currently living in Belgium (Bruges, Brussels, Flemish Brabant), others in France.
Diplomas
– 13 september 1752: Confirmation of nobility and granting the title (personal) of Knight, with ennoblement in so far as necessary, to Jean-Philippe, Jacques-Louis and Cornil-Jacques Gillès, and their status of old-time nobility, by the Empress Maria Theresa. One of their ancestors was ennobled by the Emperor Maximilien in 1518.
– 2 december 1829: Recognition of nobility by King William I, for Philippe Gillès and Louis Gillès.
– 4 april 1842: Granting the title of Baron, by King Léopold I, transferrable to the male descendants (of the name) and a change to the coat of arms for Louis Gillès, Equerry.
– Royal Decree of 22 February 1871: Addition of the name "de Pélichy", granted to Baron Louis Gillès de Pélichy, by King Léopold II.
Coat of arms
Quartered, 1st and 4th azure, chevron with three acorns slipped and leaved Or (Gillès), 2nd and 3rd vert, a fess argent, with three roses, slipped and leaved with sable, 2 in chief and 1 perching (Pélichy).
Crested escutcheon of the Baron's crown surmounted with an argent helmet, crowned, gridded, collared and contour Or, filled and attached with gules, lambrequins azure and Or.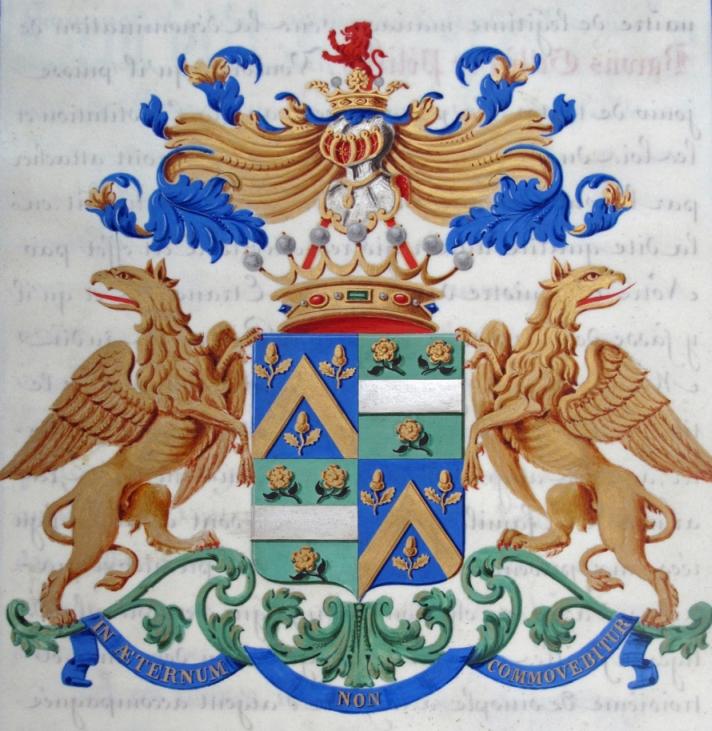 Click to expand the image.

Crest: A lion issuing from the gules.
Supports: Two griffins regardant with Or, armed and langued gules.
Below the device: "In aeternum non commovebitur".